Welding & Industrial Electronic PC Board Repair Depot
York Electronics is a full-service repair facility offering the best in quality service. Below is a partial list of our capabilities and the industries we serve.


Capabilities
• Welding Control Boards
• DC Motor Controls
• Analog and Digital Circuit Boards
• Clutch and Brake Controls
• Power Supplies
• Process Controls
• Printing Press and Cutter Controls
• Counters and Timers
• SCR Assemblies
• Temperature Controls
• Industrial Electronics (Miscellaneous)
• I/O Card Repair
• Repair of Circuit Boards to Component Level
• Repair Services for Industrial and Commercial Customers
• Specialists in Older Industrial Circuit Boards
• Repair of Foreign PC Boards
• Repair to Physically Damaged Boards

Please note: The boards listed in our catalog are for repair only. The boards are not for sale.

These services are available in the continental United States only.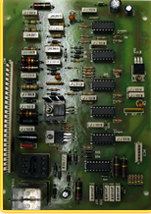 Industries Served
• Welding Suppliers
• Welding Repairers
• Electric Motor Shops
• Steel Fabricators
• Printing
• Plastics
• Corrugated Products
• Textiles
• Ship Builders
• Machining
• Construction
• Paper and Wood
• Fabricated Metals
• Misc Manufacturing
• Stone and Glass
• Electrical Contractors
• Packaging
• Material Handling Equipment