Welding & Industrial Electronic PC Board Repair Depot
Founded part-time in 1983 and full time by 1987, York Electronics, a Kentucky-based depot repair service, has provided quality bench repair on items such as Welding Control Boards, Motor Controls, power supplies, temperature controls and various types of industrial process-printed circuit boards and assemblies. We also repair many types of foreign-made PC boards. Please visit our Brands Repaired page for more information.

Specializing in Welding Controls, older DC Motor Controls and Industrial Process control boards, our Louisville, Kentucky customer service center is dedicated in its entirety to the repair and remanufacture of industrial electronic equipment. Best of all, we can repair your boards and controls for a lot less than the price of new units or OEM pricing. We clean, repair and test each item before it is returned to you. See our Capabilities page for additional information on our services.

Some features of our service include:
• Typical turnaround is 3-4 business days
• Six-month warranty
• Highly-skilled industrial service technicians
• Free evaluations of items not listed in our catalog
• Extensive parts inventory
• Quality service
• No schematics? Usually not a problem!
• Cross-reference assistance
• Save 50% - 75% off OEM
• Circuit Board Repair to component level
• Visa and Mastercard Accepted

Our only business is service. With standard savings well below the cost of a new board, repair and reconditioning provides an economical and viable alternative to replacement. Regardless of whether your equipment has been in use for five years or 40 years, it most likely can be serviced at our depot.

At York Electronics we provide personal attention and quality repairs on each and every order. We are committed to making the repair of your equipment as easy as possible for you. Our goal is to offer expert service that is fully guaranteed, at reasonable prices.

If you would like us to assist you today, please use our Repair form. Or, please contact us today if you have any general questions about our services or capabilities.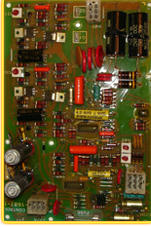 Industries Served
• Welding Suppliers
• Welding Repairers
• Electric Motor Shops
• Steel Fabricators
• Printing
• Plastics
• Corrugated Products
• Textiles
• Ship Builders
• Machining
• Construction
• Paper and Wood
• Fabricated Metals
• Misc Manufacturing
• Stone and Glass
• Electrical Contractors
• Packaging
• Material Handling Equipment